I have been working on socks. Lots of socks. Lots and lots of socks, in fact. So many socks that I am dreaming of socks. The good news is that there is no "Second Sock Syndrome" in my home. The tenacity with which I knit socks does lead to an unfortunate side-effect -- an incredible lack of variety in my knitting life.
Now, I know that I have ADD (Attention Deficit Syndrome), and that I consequently do not multi-task well. I also know that having two projects on the go at the same time has traditionally driven me to distraction. Which project to favour with my attention when I have a minute or two to spare? The decision kills me!
In a fit of ambition and an effort to tame the ADD, I have taken a deep breath and jumped right into the multi-project fray. The socks now live in a small travel knitting bag and will land right next to my purse. Whenever I go somewhere outside the house, the socks will go with me. Thus they will not be forgotten, nor will I develop a case of SSS.
But what shall I work on at home? Strange you should ask. Here it is -- my newest ambition: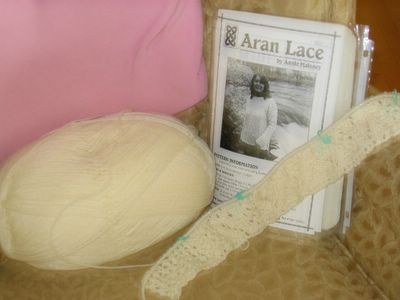 Aran Lace, a pattern written by Annie Maloney. The really nice thing about the purchase of this pattern, aside from the beauty of the design, is that a portion of the proceeds go to the
Ontario Brain Injury Fund
. It's always nice when you can support a good cause in the normal course of your day. The yarn is Stylecraft Special, an acrylic/wool blend sold by
Lewiscraft
. Normally I would support my LYS, but this yarn was on sale. 800 grams, which should be enough to make the sweater with some leftover for
Dulaan
projects, all at 30% off. Nice, eh? I've currently completed 12 rows, which is exactly one-half of the largest pattern repeat.
Now ... to see if I can manage two projects on the needles at once. My daughter suspects not.