Today was the first day of school across Ontario. My daughter started high school today. Another milestone. And the last of my children to attend high school. Sigh.
But she's still my little girl. At 14 and a half, there's an awful lot of young lady there. She primps in the mirror, she dresses for effect and not comfort. But deep inside, hidden underneath all those layers of young adult ... My baby hides. How do I know?
Well, this is her favorite pillow in the whole world.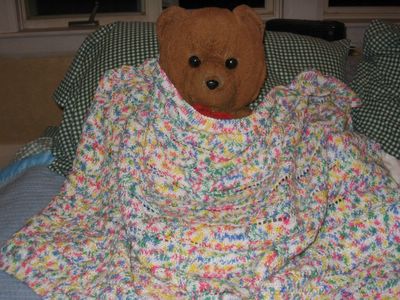 He travels with her everywhere -- except canoe camping in Algonquin Park. And that's only because there was no room in her backpack for him.
Bear is modeling the completed baby blanket. It was made with Dreambaby D.K. from Plymouth Yarns, following a pattern from the Leisure Arts book
Beginner's Guide -- Knit Stitches & Easy Projects.
I used 6 skeins of yarn.
In other news, Carrie's bedroom renovation project is completed. We had a deadline of Sept. 3 to have it finished because the band,
Tanglefoot
, was going to be staying with us. Couldn't have the guys sleeping in the living room, ya know? So we finished it, just in the nick of time. And now Carrie has her story wall autographed by the band.